Overview of Taishakukyo Gorge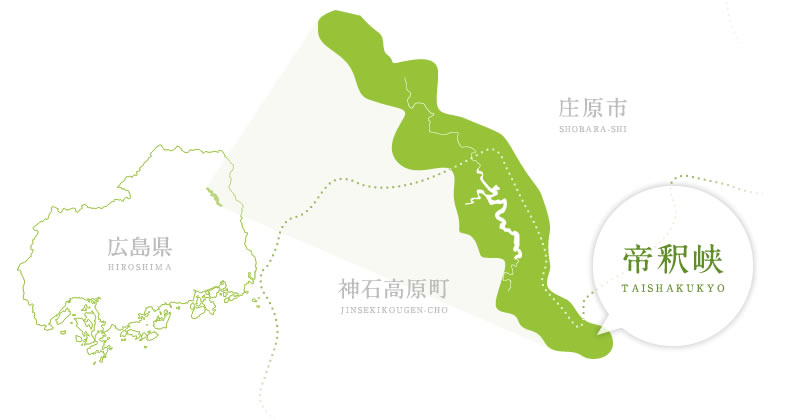 Taishakukyo Gorge is a quasi-national park that straddles Tojo Town in Shobara City and Jinsekikogen Town in Jinseki District in Hiroshima Prefecture. This is a valley with a total length of approximately 18 kilometers located in the center of the Chugoku Mountains.

This is the main scenic spot in the Hiba-Dogo-Taishaku Quasi-National Park that has also been listed as a national place of scenic beauty.

There is a huge natural bridge called Onbashi Bridge here. This was made by the erosiveaction of mountain streams and limestone caves due to the spread of the karst plateau that formed through deep erosion by a limestone plateau. In addition, you will also find the Lake Shinryu-ko here. This is a landscape harmonized with nature to the extent you won't see it as an artificial lake.

There are many highlights here through the year with new green leaves in spring and colored leaves in fall. There is also a wealth of activities to enjoy here in the great nature of this quasi-national park.
Kamitaishakukyo Area
There is a promenade alongside the mountain stream. You can take a stroll on this while admiring scenery characteristic of a limestone zone. If you take a walk on this promenade, you will come to the leading limestone cave of Taishakukyo Gorge called Hakuundo Cave and an eight-meter high cave entrance called Oni-no Karamon. If you walk about another 20 minutes from there, you will find the number one sightseeing spot in the Kamitaishakukyo of Onbashi Bridge.

This is the largest natural bridge in Japan with a length of 90 meters, a width of 19 meters and a height of 40 meters that was formed by uplift and erosive action. This is a national natural monument that is also called Kami-no Hashi (Bridge of God). If you proceed further along, you can see Dangyokei Gorge with its beautiful rapids and Somen Falls with water flowing down from the limestone caves.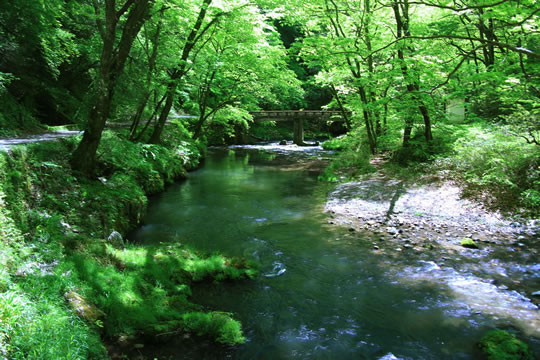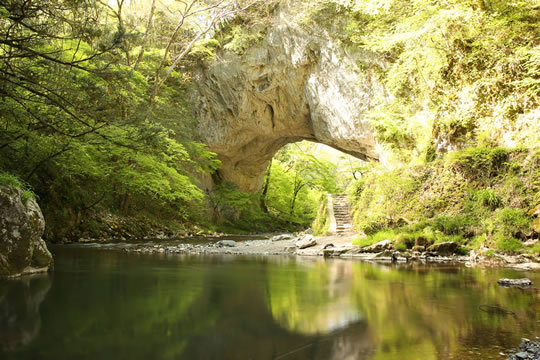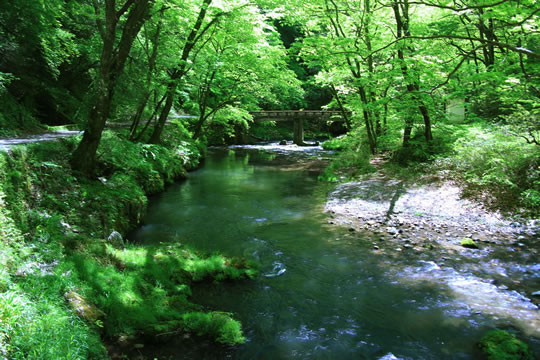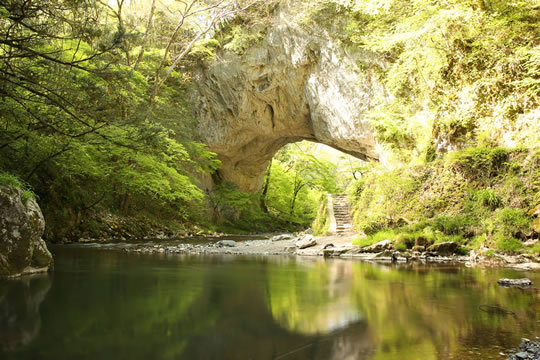 ---
Lake Shinryu-ko Area
Lake Shinryu-ko features impressive crimson bridges on the deep blue of the lake surface. There is a walking course that goes around this lake by crossing its three red bridges (Shinryu Bridge, Sakura Bridge and Momiji Bridge). In addition, you can admire the beauty of the gorge rich in variety with its cliffs and rock formations soaring above both banks up close from the surface of the lake on a pleasure boat or kayak.

The beauty of the contrast between the gorge steeped in fall colors and the surface of the lake reflecting the fall leaves is a must-see sight.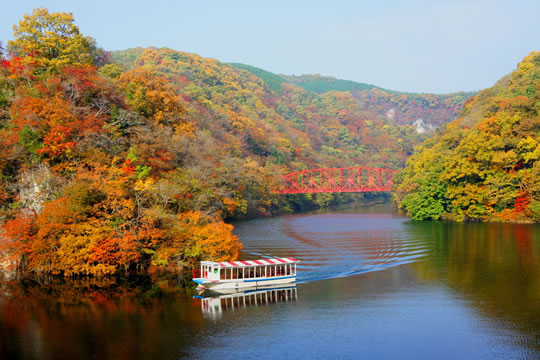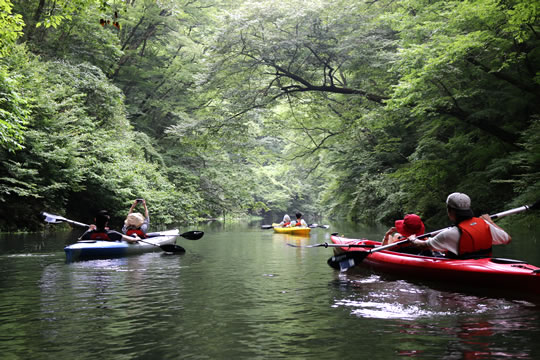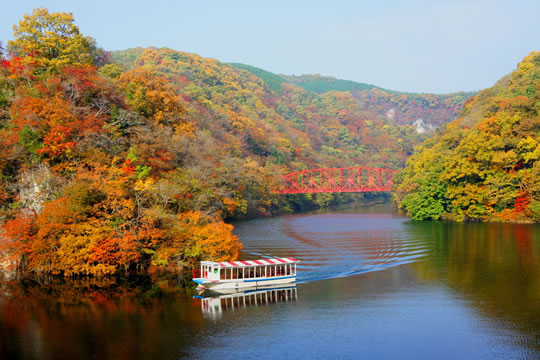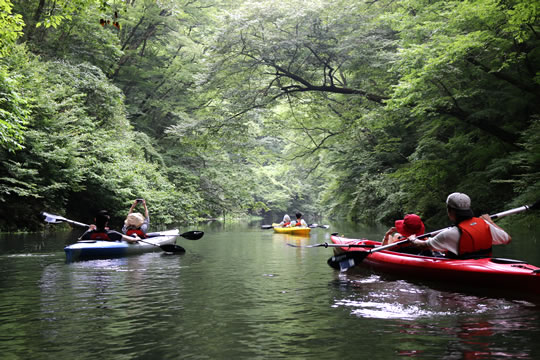 ---
Other Areas
There are many tourist spots in the surroundings of Taishakukyo Gorge. These highlights include exploring the streets of the castle town Tojothat has a long-established Japanese confectionary shop and sake brewery, picking apples in a tourist apple orchard, and visiting the nature experience park of Jinseki Kogen Tiergarten or the roadside station.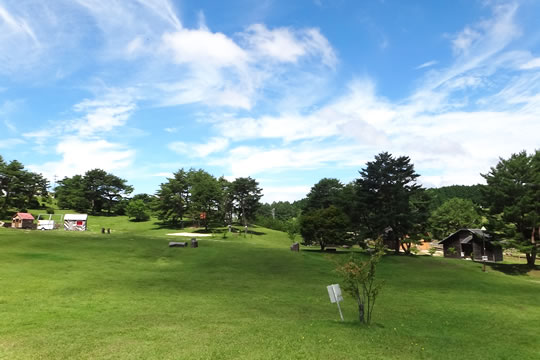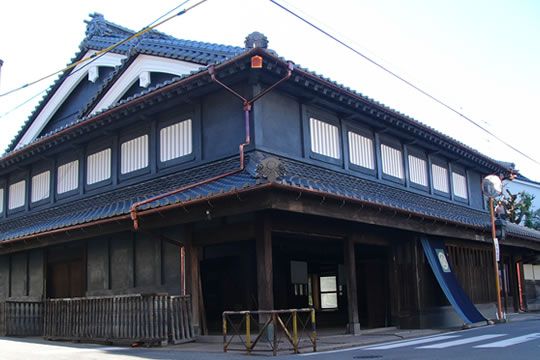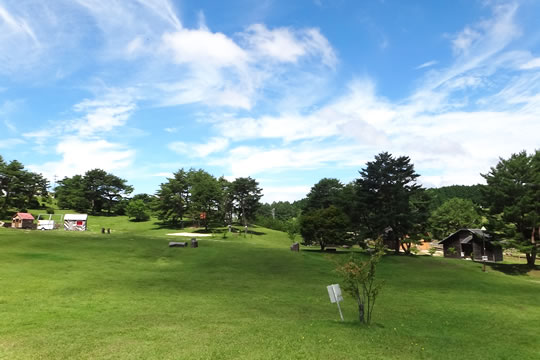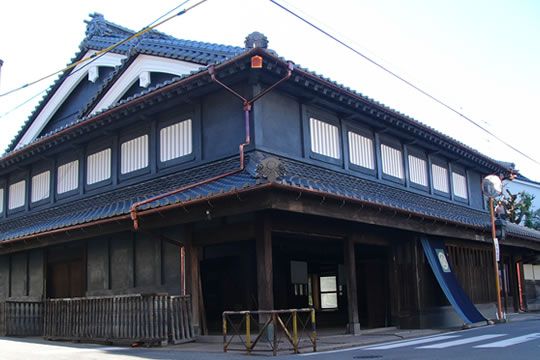 ---